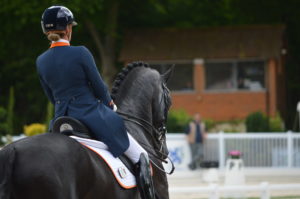 Cancelled last year following the Covid crisis, the 10th edition of the Internationaux de Dressage of Compiègne will take place from 27 to 30 May 2021, behind closed doors.
As the health situation is still fragile, the competition will unfortunately take place without an audience and all measures will be taken to ensure the safety of all, including the obligation for all persons present on the site (riders, trainers, judges, volunteers, organisers, press, etc.) to present a negative PCR test. " Like other sports such as football, for example, the current situation requires us to introduce a closed-door policy, confided Monique Marini, President of the Compiègne Equestre Association, which organises the event. Obviously, a 10th edition without an audience is not the celebration we had imagined… But with the Olympic Games in sight, and the near absence of competitions for nearly a year, it was very important for us to do everything possible to allow the best couples in the world to compete just a few weeks before Tokyo. We obviously remain very attentive to the evolution of the health situation and hope to be able to welcome a maximum of foreign riders, faithful friends of the Internationaux de Dressage of Compiègne. "
Where to watch the Internationaux de Dressage of Compiègne :
The CDIO5* will be live and in replay on Sport en France, Cheval TV, FEI.Tv, but also on our Facebook page (definitive schedule to come)
You can also follow us on :
Instagram : Internationaux de Compiègne (@cdi_compiegne) • Photos et vidéos Instagram
Facebook : Compiègne Equestre | (compiegne-equestre.com)
No Results Found
The page you requested could not be found. Try refining your search, or use the navigation above to locate the post.
Friday, 8am. Under the first rays of the sun, the judges bell finally rung, launching the 10th Internationaux de Dressage of Compiègne.  With seven classes programmed and nearly 200 entries, this return to the sport after a number of months with few events has been...