The Grand Parc Equestrian Arena in Compiègne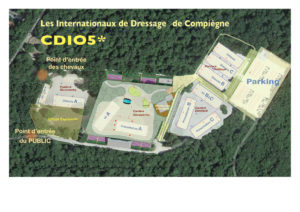 The site has been adapted to host high-level competitions
The city of Compiègne and its various partners have created a complex that is especially reserved for equestrian competition in all high-level disciplines.
In 2021, the equestrian stadium has been selected as the "rear base of the 2024 Paris Olympic Games" and as well as "Pôle d'Excellence de Compétition Optimum" by the French Equestrian Federation.
Along with van parking space, the equestrian arena covers 10 hectares of facilities of exceptional technical quality. In fact, trainers in a variety of equestrian disciplines believe this is one of Europe's finest.
The fully renovated complex includes:
the main all-weather sand arena measuring 140m x 110m, with a 70m x 70m warming space.
a covered grandstand for 1000 spectators
terraces set up landscape-style all around the honor ground
an all-weather sand arena 100m x 90m with  a 70m x 70m warming space.
a hospitality village.
In 2017, a brand new footing has been placed in all the show rings as well as the warm-up and training arenas to provide the best surface and leg comfort for the horses. Arenas has been entirely redone to place a new fiber sans of high quality.