REPLAY
Watch the replay of The Internationaux de dressage 2021 on Cheval TV!
CDIO5* and CDI3* on Saturday & Sunday
 
Access to Cheval TV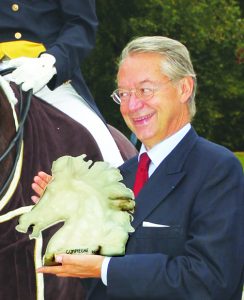 " Written in our town's motto, "Regi et regno fidelissima", loyalty is one of the most important values to the organisers of the Internationaux de Dressage of Compiègne, a show that has become over the years an unmissable rendezvous in the equestrian universe. For many years, this loyalty has been the centre of the passion held by all those who work towards the success of this event, which will this year celebrate taking place for the 10th time.
Despite the difficulties due to the health crisis which has for months paralysed a significant proportion of sporting and cultural events in the country, and which in 2021 imposes the event being held behind closed doors, members of the organising committee, partners, the precious volunteers, officials, and the media will meet again, from the 27th to the 30th of May.
This loyalty is also shown by the top riders returning every year, offering us their best performances and delighting us with their art. At the end of this month of May, which will hopefully mark the end of a so difficult period for all, the Grand Parc Equestrian Stadium, a place of reference for equitation, thanks notably to the town's investments, supported by our institutional and private partners, will welcome some of the World's dressage stars. At a few weeks from the Tokyo Olympic Games, many have made a date with the Compiègne arena for one of the four Nations Cup's of the year, and the only one organised in France. More than ever, the Internationaux de dressage will position Compiègne as a true "Town of the horse". So once again, and whilst waiting for the public to return as quickly as possible, we will remain loyal."
Philippe Marini
Led by the great Patrik Kittel, Sweden asserted itself in a Nations Cup marked by the elimination of the Danish couple, ranked 6th in the World, Cathrine Dufour and Bohemian. The podium was completed by the surprising Portuguese, second, in front of Great-Britain. The...