The official schedule 2018 of the CDIO of Compiegne has been approved by the FEI. It is available on our website. To discover it: click here.
On the program of our competition this year, from 18 to 20 May 2018, the only French show of the Nations Cup with the CDIO 5 *, accompanied by a CDI 3 *, CDI 2 *, CDI Y, CDI J, CDI P and CDI Ch.
We will meet again Mr. Raphaël SALEH as President of this exceptional Jury.
Entries are open, so make sure you contact your national federation if you want to compete at this show.`
The 8 countries invited to the CDIO 5 * are Belgium, Denmark, France, Great Britain, the Netherlands, Spain, Sweden and the USA.
A great competition with famous riders of Dressage in perspective!
See you soon on our magnificent Equestrian Stadium!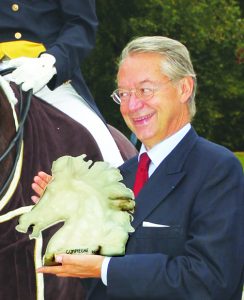 " First there was the forest at Compiègne. The hunt satisfying our sovereigns since the Merovingians… Riders know the surface of the forest is like no other, so it's not surprising that every equestrian discipline has put their roots down here.
Over the last ten years the revelation has been Dressage. Today the 5 star CDIO is one of only four organised annually in the World. If a competition of this level can take place, it's thanks to the  own's investment in the "Stade Équestre du Grand Parc". But not only, it's also due to our other corporate and private partners. I'd like to encourage them to support us again, and to even increase their backing.
I hope that this international and elegant event will be the centre of wide media coverage. You'll see the very best in this sport. And you'll tell others that dressage is a work of art surrounded by nature! "
Philippe Marini
INTERVIEW From the 18th to the 20th of May, and for the third year running, the "Stade Équestre du Grand Parc" at Compiègne will be opening its' doors and welcoming the World dressage elite for the Official French International Dressage Show (Concours de Dressage...