32 riders, 10 teams, the famous CDIO5* of Compiègne and its FEI Nations Cup provided a breathtaking battle today between the World's best. If the predictions were many, it was finally the World n°6, Denmark's Carina Cassøe Krüth, who, for her return to this imperial city, offered the best performance and has allowed her country to become the overnight leaders. In the CDI3*, Matthias Alexander Rath stood out this morning in the Grand Prix Special while the incredible duo formed by Charlotte Fry and Lars van de Hoenderheide won the Grand Prix Freestyle this evening. As for the home nation riders, another superb performance from Mado Pinto in the young riders!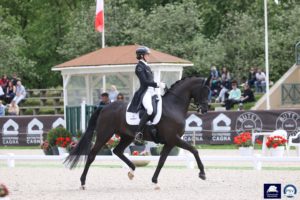 Carina Cassøe Krüth & Heiline's Danciera
Following the Eurovia Grand Prix, the first act of the FEI Nations Cup at the CDIO 5* in Compiègne, the Danish team led by Carina Cassøe Krüth have taken pole position with 22 points ahead of the Netherlands and Germany, neck and neck on 29 and 30 points (the results of each rider in the Grand Prix are added together to obtain the total for each team). The World Team Champion, recently victorious in the Herning Grand Prix with a score approaching 80% (79.717%) and the winner of the Grand Prix Special here in 2021, made her comeback riding the brilliant Heiline's Danciera. ''I think I rode a great test. I've got the impression that she's really matured, she's more and more at ease. We've been competing in 5*Grand Prix for several years and yet I've been feeling a real difference over the last few months. She's gained in strength and confidence and you can feel it, the judges can see it too, everything is more harmonious and, of course, we know each other by heart!'', laughed Carina Cassøe Krüth at the end of the prize-giving.  "In a team, with horses, nothing is ever certain, but we have every chance. Anna (Kasprzak – 10th), and Lone (Bang Zindorff – equal 11th) put in solid performances today, slightly below their usual scores, but I'm confident for tomorrow. Lone has a very nice Freestyle and Anna's horse is excellent at piaffe-passage, an advantage in the GPS."
Individually, Charlotte Fry, who was eagerly awaited by the Compiègne public, took second place at the commands of the explosive Everdale. With 77.413%, Great Britain's top of the bill dressage rider, once again impressed by her control, ability and determination taking her young team into 5th place at this midway stage. Behind them, Matthias Alexander Rath, leader of the German team, was 3rd ahead of one of the big favourites, Sweden's Patrik Kittel. With Destacado FRH, the German performed a very good test and was rewarded with a score of 74.870%, putting his team into 3rd place this evening.
CDI3* GPS – Matthias Alexander Rath & Thiago GS take the Prix Région Hauts de France.
The German rider is certainly on form, winning the CDI3* Grand Prix Special Région Hauts de France this morning with his son of Totilas, the elegant Thiago GS. After a 3rd place yesterday in the Grand Prix, the pair set their personal best in Compiègne, leaving the arena having achieved 74.936%. A cadenced test, with well-executed passage and piaffe gave him a win against the 14 other competitors who had chosen to contend the GPS. ''Thiago keeps improving and he performed even better than yesterday," said the rider with a smile. ''The piaffe felt really good and I've the impression that all the hard work we've done over the last few months is starting to pay. We've still many details to work upon but I really believe in him, he has a lot of similarities with his sire. Our next outing will be the 4*CDI in Wiesbaden before the German National Championships''. Behind him, his compatriot, the three-time European U25 team champion (2017-2018-2019), Bianca Nowag-Aulenbrock in 2nd place with Queolito, whom she is starting at international level. A test scored at 71.979%,  promising for the future! Spain's Claudio Castilla Ruiz was 3rd on Hi Rico Do Sobral (69.574%).
CDI3* GP Freestyle – Charlotte Fry and Lars van de Hoenderheide: Amazing!
For his first international outdoor event, Lars van de Hoenderheide, one of the up-and-coming rides of the amazing British rider, showed that he has his place among the greatest. Already the winners  of the 3*Grand Prix yesterday, the pair reiterated today in the Freestyle on a score of 81.210%, their best score to date. Showing astonishing maturity, the chestnut executed the flying changes with disconcerting ease, and pushed the very experienced Well Done de la Roche CMF and Patrick Kittel into 2nd place (77.150%). "This horse is amazing, truly!'' confided the rider. ''He's progressing so quickly and surprises me in each new class. I don't know yet what our plans will be for the next few months because I didn't expect such rapid progression, but the most important thing is that he enjoys himself! I hope to be able to ride him for some time yet.''  Behind them, the Portuguese pair of Maria Caetano with Fenix de Tineo were 3rd, scoring 74.435%, one of their best Freestyle performances since that at Jerez de la Frontera last March (75.050%).
Tomorrow, it's show time! A sporting show with the outcome of the FEI Nations Cup and the CDIO5*, but also with an equestrian display by the Spain's Santi Serra who won't fail to fill the stands from 3pm.
————————
CDI Young Riders – A double for Mado Pinto.
Top of the leader board yesterday with Hot Bit de la Gesse but at the foot of the podium with her second ride Joolz de la Gesse, Mado Pinto closed the gap today and managed to get ahead of her main opponent, Belgium's Jette de Jong. The French rider performed a first test awarded 69.706% on Joolz de la Gesse, a  ride she has been given for her last season in young riders, and then went on to win with a test scored at 71.569% with her top horse, Hot Bit de la Gesse. Convincing results at the eve of the European Championships in Pilisjászfalu (Hungary) from the 11th to the 16th of July! Jette de Jong and her regular partner Heavenly Charming thus found themselves 3rd on 69.559%.
CDI Junior – The Marseillaise,  again!
No changes in the placings today for the junior riders. Anna Dupuy Pelardy and Ines de Koninck again successfully flying the flag for France by taking 1st and 2nd place in the class against 15 other competitors. The only ones to pass the 70% mark, these young (under 18) and talented riders finished on 72.206% and 71.961% respectively, riding Jarina des Vallées and Feuerdorn VB. Belgium was again 3rd thanks to Clara Collard and Escape (69.804%).
CDI1* – Intermediate – The next generation prepares itself.
Aimed at riders starting  their international careers or more experienced riders wishing to bring on their young horses, the Intermediate of Compiègne's CDI1*  saw some of the biggest names in the discipline compete this afternoon. Placed first was the 5* rider Anna Kasprzak (DEN) with her 8-year-old gelding Everian L (72.853%), while Charlotte Fry rode Jackson, a 9-year-old, into 3rd place (72.382%). Separating them was Isabel Cool (BEL) and Herr Charmeur Coolhorses (72.676%).
CDIU25 – Daphne van Peperstraten making herself at home in Compiègne
If the top of the class was identical to yesterday in the Under 25s with a 2nd victory for Daphne van Peperstraten, the rest of the podium was somewhat changed much to France's delight. Very comfortable in the heart of the Grand Parc equestrian stadium, the Dutch rider partnering Greenpoint's Cupido, whom she has been riding since her years in Juniors (2016), performed another extremely good test rewarded with a 74.808%. Following them, Spain's Adrian Roldan Narvaez on Floyd, 2nd with 73.225% while France's Alexandre Cheret /Bamona, 4th yesterday, gave a lovely performance, riding into 3rd place on a score of 72.308%.
CDI Pony – Lilly Marie Collin dominates the ponies
No surprise in the international for pony riders as the world number one, Lilly Marie Collin, once again demonstrated her supremacy at the commands of the very good Cosmo Callidus NRW. Taking advantage of her last season in ponies, the young German is collecting podium places and won today with 75.270%. Her teammate Mia Allegra Lohe and France's Thibault Viaud were respectively 2nd and 3rd with Tovdals Golden Future Imperial (72.838%) and Dazzling Kid d'Herbord (70.766%).
Startists and results : click here
HD photos : click here
Video of Carina Cassøe Krüth & Heiline's Danciera : click here