The "Grand Parc" equestrian stadium and the town of Compiègne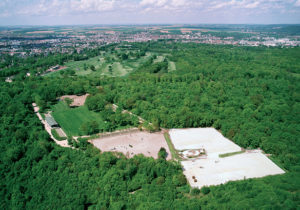 Created in 1992 by the town of Compiègne, renovated in 2017 under the management of Monsieur Dominique Carton, the "Stade Équestre du Grand Parc" is a real sports complex dedicated to the horse, which alongside the Haras National and the racecourse, confirms the position of this town, situated in the Oise department, as "Town of the Horse".
The 'Grand Parc' equestrian stadium is 10 hectares of high quality infrastructures which welcome each year more than 15 regional, national or international, show-jumping, dressage and even carriage driving shows.
The installations:
A main grass arena measuring 140x120m, with a 70x70m warm-up area, a covered stand seating 1000 and terraces all around the arena edge,
A 9,000m2 sand/fibre mix competition arena with terraces,
A 120x60m sand/fibre mix competition arena,
A second warm-up area measuring 70x70m,
An exhibitors village,
212 hard standing stables, divided between the "Stade" and the racecourse.
The historic town of Compiègne
At the junction between the Aisne and the Oise, at the edge of majestic forests, Compiègne is nestled in the heart of the region. Royal and imperial town, the scene of major events in French history, it remains a city where it's good to live, careful to maintain the memories of a rich history. Browsed at whim by numerous visitors each year, the Imperial Palace, the Town Hall, the churches and museums all bear testimony to a thousand year existence!